Translucent wall installation
Utilising local resources to create sought after products for national and international markets is a Nelson story of today. It is also one of our first stories. 'Code 5' is a work that celebrates the interconnectedness of our lifestyles through the generations.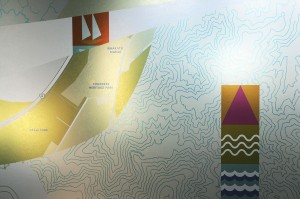 The work is inspired by one of Nelson's first industries. High in the hills above the headwaters of the Maitai River lies the site of the "Rushpool" quarry. The quarried material was pakohe (or argillite) and in an age of stone tools, some 800 years ago, it was in demand. Why? Because it was a very hard rock and it fractured, when skillfully struck, in a way that allowed it to be formed into adze-shaped tools. It was found only in the Nelson Region and in Southland.
Maori shaped the stone, on site, into adze-like forms. During this roughing out process, small flakes of stone were discarded. Over the years thousands of flakes built up on the quarry floor as highly skilled workers fractured hundreds of pieces of pakohe into roughs. The roughs were carried down to coastal villages. They were traded all over New Zealand and the Pacific. Some were finished and polished before trading, while others were traded rough.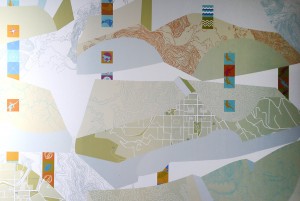 Photo: Nelson Mail
The knowledge, skill and enterprise applied by Maori 800 years ago is echoed in Nelson's identity today – an identity defined by diverse industries including forestry, wood products, fishing, marine farming, horticulture, viticulture, livestock farming, dairying and tourism.
Rough-out pakohe and the stone flaking floor of Rushpool Quarry symbolize a core component of our identity and the patterning of these shapes forms the base of the work. Overlaid and threaded through this base is symbolic 'digital code' containing imagery that represents Nelson today.
Code 5 is named after the rough out adze that I sketched at the Nelson Museum as the starting point for the work. The adze is catalogued as Rushpool 5. Flake shapes were also sketched on site at the quarry. Line patterns set into the adze shapes are contour lines of Nelson, and the Maitai River and its tributaries.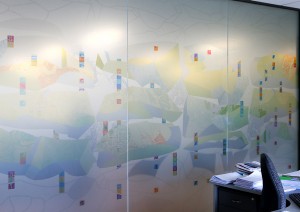 Photo: Nelson Mail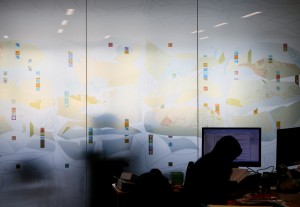 Photo: Nelson Mail